Venue: De Abbert
The 2018 Dryade international druid camp will be held at the venue where the camps started 10 years ago: at De Abbert, situated near the town of Dronten in the Netherlands, which is located in the centre of the country, where the former Zuiderzee (a shallow bay of the North Sea) was.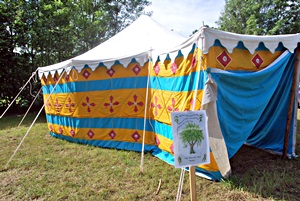 At the camp, ten colourful shamyana's will be used for the activities and workshops. There's also a spacious barrack available.
Meals
If you have booked the 'all-in' option (please refer to the Fees section), all 9 meals will be provided, starting with dinner on Friday, and ending with lunch on Monday.
As there's no group kitchen at this venue, this time we'll be using a local cateringservice to deliver our meals. Klaver Keurslager
Complimentary coffee and tea will be provided for all participants.
All meals will be served buffet style in the Polaris, also serving as our Dining room.
Please don't forget to bring your own plate, cutlery and mug!
As in 2016, Fair-trade coffee and tea, made with natural spring water will also be available for a fair price at the camp: See below.