Dryade camp 2018
Fees

Adults (age 18 and older)




Youngsters aged 13-17

Children aged 3-12
(kids under 3 are free)

no meals
(self catering)

with meals
(all in)

no meals
(self catering)

with meals
(all in)

no meals
(self catering)

Fee to pay:

€ 234,-

€ 188,-

€ 123,-

€ 77,-

€ 78,-

€ 28,-
Please read the text below before you register to take part in this camp!
(Note that as this camp is a full day longer than the 2016 camp, the fees are accordingly higher.)
The maximum number of participants at this camp is 140 persons. Registration as a participant is open from Wed. 1th Nov. 2017.
The order of receiving the digital entry forms via email, accompanied by a first payment (see at 'registering'), defines the order of registering. To register, please send in
a form for each person separately.
Always included: tent/caravan pitch and facilities, admittance to all camp activities (as long as workshops/activities are not fully booked), coffee and tea.
Please notice that smoking is prohibited in at the venue, with exception of the 'smoking corner'.
Enlisting for the workshops and activities can only be done (where needed) on the day they are held at the camp.
Camp is open to participants from Friday at 17.00 hrs.
The opening ceremony is on Friday, right after dinner.
There is no no dinner on Monday, as the camp closes around 4 pm.
All the other meals are included, if you have paid the 'all-in' fee!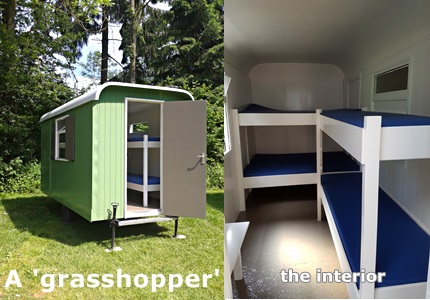 For those unable to camp, there are a few indoor beds in shared 'Grasshoppers' available (8 beds per room). These will cost € 30,- extra per person for 3 nights. The number of beds is very limited, and will only be available on a first-come, first-served basis. After you've sent your registration-form, if relevant, we'll inform you if a bed is still available for you.
Children under 3 are free, however, please remember to register them through a registration form. Please note that there are no babysitters, and children under the age of 4 are too young to join in/be present on camp activities.
We regret that dogs are not allowed at this camp.
Participants are scheduled to help with some camp mandatory camp duties. Please keep the grounds, buildings, toilets, showers clean! There won't be tasks for cleaning the toilets and showers. We hired someone to facilitate that task for us.
All registrations to participate in this camp have to be sent to the organisation via the registration form on this website.
Your registration is valid only after a first payment has been received on the following bank account; Bank account number: IBAN: NL70 ABNA 0254 6047 06 (BIC: ABNANL2A) under the name of J. Triemstra, Oud-Beijerland, The Netherlands.
(Note that the name of the bank account holder is not 'Dryade' anymore. Due to high costs we have stopped that bank account. The new account mentioned here will be exclusively used for Dryade druid camps.)
The final date for payments of the complete fee is 1 March 2018. Registrations without full payment will be invalid after this date.
If you wish, you may pay your fee in two equal instalments, or choose to pay € 50,- (kids 3-12 : € 20,-) first, and the remainder in 1 or 2 later payments.
Cancellation:
Please remember that if you register and have confirmed this by a payment, we count on your participation and costs will be made for you. If you have registered and have to cancel, the following applies:
Cancellations must be sent by mail to dryade @ obod.nl Please check if you get a confirmation of your cancellation from us within a week!
If you cancel before Imbolc 2018 (1 February), € 50,- (kids 3-12 : € 20,-) of the fee will be charged.
If you cancel after Imbolc 2018 (1 February), but before/on Alban Eilir (20 March), 50% of the entry fee will be charged.
If you cancel after Alban Eilir (20 March), we unfortunately need to charge the entire registration fee.
Please take out a personal cancellation insurance policy, if desired.
If you're unable to attend camp, you may send a substitute instead. If you do, then please send us a notice and his or her name, etc, by e-mail
Disclamer / Responsibility:
This camp is organised by a group of volunteers (obod-members) for bards, ovates and druids, Dryade magazine subscribers, family/friends and newly interested. The organisation group is independent, and this camp is set up as a meeting of friends on a non-profit basis.
The organisation cannot be held resposible/liable for any loss, damage or injury. Participants have their own responsibilities. Participants are advised to take out a personal insurance for this.
The organisation group reserves the right to expel any participant from the camp in case of any misbehaviour or disrespect.
We trust all participants in behaving very 'druidic' with respect for nature and all creatures in all realms. Parents are responsible for their children to behave accordingly.
The org.group tries to do everything to make this camp enjoyable for everyone. However we are not perfect; so if you have any comment or suggestion for improvement, please don't hesitate to contact us!
We wish all that attend the camp, in this realm and the other, to have a great and peaceful time together. Because without peace no work can be done!
Bright blessings /|\ Ezra, Judith, Marjon, Peter, Robbin