Dryade international druid camp 2018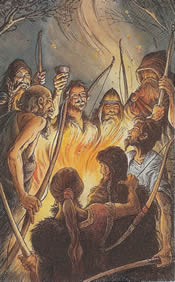 In 2018, ten years after the first Dryade camp,
the 8th international druid camp for bards, ovates and druids, and friends, will take place in the Netherlands
from Friday evening 18th May until Monday afternoon 21st May 2018.
More info about this event will be published here in 2017.
(last update of this website was on 28 June 2016)
Previous Dryade druid camps
Starting in 2008, until now there have been 7 Dryade druid camps in the Netherlands.
Below are the logos of these events. You can find a brief overview on the Dryade magazine website

The Dryade camps are events on a non-profit basis, where bards, ovates and druids and their families and friends can meet and enjoy spiritual, nature, creative or other workshops run by druids and friends, make and/or listen to music, and enjoy wonderful eisteddfodau, campfires, ceremonies, and more.